For everyone's safety, we've had to reduce the number of festive activities for this year. Although we'll miss seeing you all at our Christmas Church Service and Breakfast With Santa, we would still love for you to get involved and help us provide a Christmas for our vulnerable young people. 
Christmas Appeal 2020
In spite of everything that's happened this year, YMCA North Tyneside has continued to provide housing, support and guidance for young people in the local community. As Christmas approaches, we see more and more young people reaching out for our help, and it's important, now more than ever, that we do everything we can to be there for them.
This short documentary provides an insight into the work we do as a local charity and why your contributions are needed so that we can go on helping vulnerable young people in North Tyneside.
Interactive donations
With our doors being temporarily closed throughout 2020, donations have been understandably low. If you are passing YMCA over the Christmas period, please  visit our interactive installation on Chruch Way in North Shields where you can simply tap your card to donate £2 to our charity using a secure contactless donations system.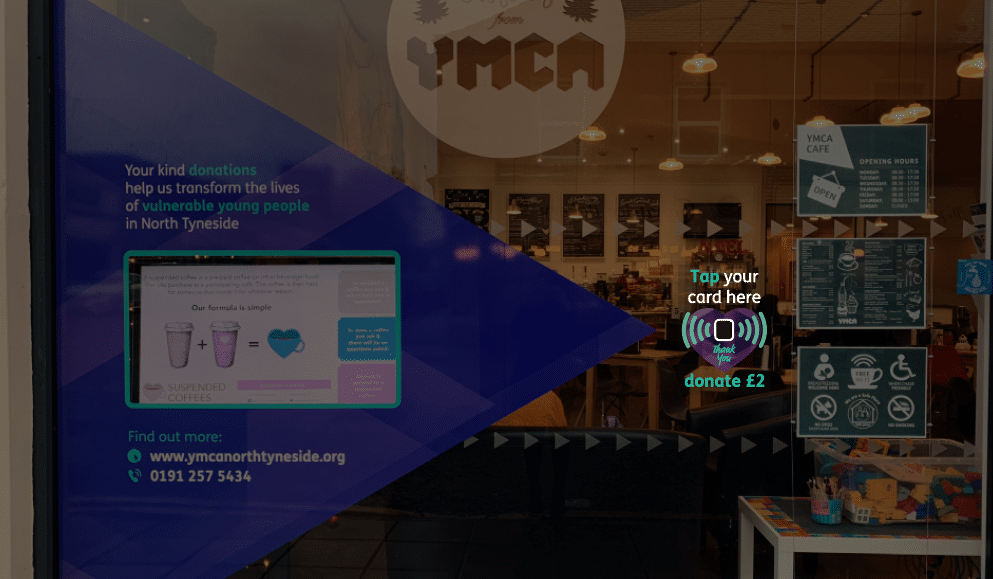 Gifts for young people
Please help us to continue to provide the support and care that our young people so desperately need. We are appealing for Christmas donations for our 36 residents, two-thirds of which are male and one-third female. 
Due to the pandemic, we've done things a little differently this year and we're asking people to purchase an item from our Amazon wish list.
We are aiming to fill a shoebox with small gifts for each resident so that they have something to open on Christmas morning. The kind of things we would like to be able to give them are:
Christmas Wish List
Hat
Gloves
Socks
Pyjamas
Chocolate
Make Up
Photo Frames
Body Spray
Deodorant
Sweets
Gift Vouchers
(Wilko/Boots/ITunes/LovetoShop)
Shower Gel
Hair Brush / Combs
Mugs/Cups
Games
Teddy bears
Keyrings
Bedding
Blankets
Household decorative items