Despite the unforeseeable events of the pandemic, as an organisation we are grateful to announce that the YMCA has continued to be able to provide housing, support, and general guidance for young people across North Tyneside with the generous donations from our local community. As the seasons shift to darker nights and Christmas draws near, we are determined and optimistic to carry on offering the same level of support to those in need and make this holiday a very special one to all.
Christmas Appeal 2021
Although we're still seeing a reduction in festivities this year, with the local carol service once again being put on hold, we're pushing to host a number of activities to bring our community together while also raising awareness and funds for the ongoing issue of youth homelesses in our area. Take a gander through our website which will progressively be populated with fun upcoming events throughout the month leading up to Christmas if you're interested in taking part!
We as a global community are passionate about preparing our growing generations for the best possible chance at life both now and in their futures, and would also love it if others could take the time to watch our short documentary about the work we do as a local charity and why the public's contributions are vital to allow us to continue to help vulnerable young people in North Tyneside.
Interactive donations
With fewer people carrying cash these days, YMCA North Tyneside are once again utilising our interactive installation on Church Way in North Shields to receive electronic donations by card for those who are able to lend the cash. If you are passing by our buildings during the Christmas period, please consider donating just £2 to our charity using this secure contactless donation system!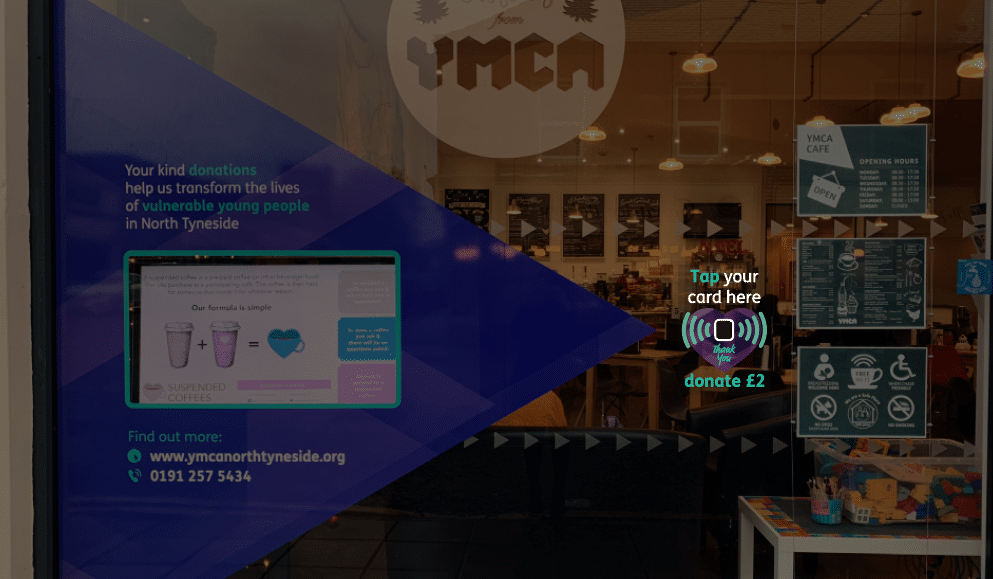 Gifts for young people
We understand that Christmas can be a difficult time for many, even for those living in our supported housing, which is why for this Christmas we are appealing for gift donations for our 23 residents – many of whom have little to no contact with their families around what should be this magical time of year.
As such, we have a range of larger and smaller items on our Christmas Wishlist that the general public can purchase on behalf of these young people, these can then be donated directly to us through our reception on Church Way or can be purchased online via our Amazon listing:
Christmas Wish List
Hat
Gloves
Socks
Pyjamas
Chocolate
Make Up
Photo Frames
Body Spray
Deodorant
Sweets
Gift Vouchers
(Wilko/Boots/ITunes/LovetoShop)
Shower Gel
Hair Brush / Combs
Mugs/Cups
Games
Teddy bears
Keyrings
Bedding
Blankets
Household decorative items